- Pensacola Golf Courses -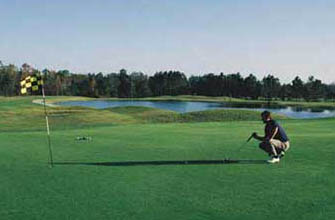 Beautiful Courses
You will find more than a dozen golf courses within easy driving distance of Pensacola.
Each course has its own personality, from the bargain-priced public Osceola Golf Club to the stylish new Lost Key Golf Club on Perdido Key, from the Fairways Group, four locations offering 90 holes of golf, to The Moors, a Scottish-style course which has its own bed and breakfast.
The courses link up with accommodations to offer affordable stay-and-play packages all year. The packages offer something for everyone in the family - golfing, sunbathing, shopping and exploring historic attractions.
The courses draw top players, amateur and professional alike. The American Amateur Classic, with a field of nearly 400 entrants, is entering its 30th year. It is played on four of the area's top courses each May.
The Pensacola area is also home to one of the top events on the Senior PGA TOUR, the $1.1 million Emerald Coast Classic played at The Moors Golf Club in March. Winners include Raymond Floyd, Lee Trevino, Isao Aoki and Dana Quigley.
---
GOLF COURSES
The Club at Hidden Creek (KSL Fairways) - 3070 PGA Blvd. Navarre, FL. 32566
Open daily sunrise to sunset.
Phone: 850-939-4604
Creekside Golf Club - 5555 Esperanto Dr., 32526
Open 7 a.m. to dusk, seven days a week
Phone: 850-944-7969
Destination Golf- Vacation Packages - 158 Stearns, Gulf Breeze, 32561
Open Mon.-Fri., 8:00 a.m.-6:00 p.m.; Sat.-Sun., 9:00 a.m.-1:00 p.m.
Phone: 850-932-1454 or 800-477-4833
Fax: 850-932-0598
Lost Key Golf Club - 625 Lost Key Drive (Perdido Key, FL 32507)
Open 7 a.m. - 7 p.m.
Phone: 850-492-1300 or 1-888-2LOSTKEY
Marcus Pointe Golf Club - 2500 Oak Pointe Dr. 32505
Open sunrise to sunset
Phone: 850-484-9770; 1-800-3MARCUS
The Sportsman of Perdido (formerly Perdido Bay Golf Resort) - One Doug Ford Dr. Perdido Key, FL 32507
Home of the Moose & Cock Grill
Open Daily 7 a.m. - sunset
Phone: 850-492-1223
The Moors Golf and Lodging - 3220 Avalon Blvd., Millton, FL 32583
Open 7 days a week, 7 a.m. to dusk
Phone: 850-995-GOLF or 1-800-727-1010;
Scenic Hills Country Club (KSL Fairways) - 8891 Burning Tree Road, 32514
Open 7 days a week, sunup to sundown
Phone: 850-476-0611
Stonebrook Golf Club - 3200 Cobblestone Dr. (Pace, FL 32571)
Open seven days a week, daylight to dusk
Call For Tee Time (7 Day Advance)
Phone: 850-994-7171
Tiger Point Country Club (KSL Fairways) - 1255 Country Club Road, Gulf Breeze 32561
Open 7 days a week, sunrise to sunset
Phone: 850-932-1333; 1-800-477-4833